Is your refrigerator constantly cycling on and off? Has your dishwasher finally stopped working? Is your washing machine leaving your clothes dirty? No matter which one of your home appliances is causing you trouble, the experienced appliance repair pros at All Queens Appliance can help. For over 40 years, we've been providing residents of Brooklyn and nearby areas with superior appliance repair services. Years of hands-on experience with malfunctioning appliances means that you can count on us for top-notch results with each appliances repair job. Call us or drop us a line today to find out more about our appliance repair service!
At All Queens Appliance, we can provide you with appliance repairs for all of the leading brands, and you can rest assured that the repairs we offer won't be shoddy, quick fixes. We offer a one-year warranty on parts and labor for all appliance repair services, standing behind the work that we do for your quality assurance. Contact our licensed, bonded, and insured team of appliances repair professionals if you need help with any of the following home appliances:
Refrigerators, freezers, and ice makers
Dishwashers
Washing machines and dryers
Garbage disposals
Trash compactors
Wine coolers
Microwaves
Ovens, ranges, and stoves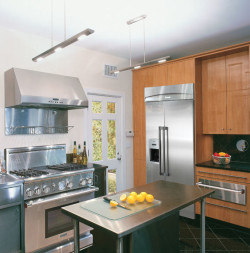 The next time one of your appliances starts acting up, don't throw in the towel. Instead, call on the home appliance repair experts at All Queens Appliance. In addition to serving residential customers, we're also happy to work on appliances in commercial settings, as long as they are residential models.
High-End Appliance Repair Professionals
The experienced technicians at All Queens Appliance are well-versed in appliance repairs for most major appliance models, but we're proud to specialize in high-end appliance repair services. With few home appliance repair companies in Brooklyn focusing on these upmarket models, you won't want to entrust these intricate appliances to just anyone. However, you can rest assured that your sleek Viking, Thermador, or Bosch appliances will get the proper treatment when you turn to All Queens Appliance for appliance repair. Throughout the years, we've developed a lasting expertise when it comes to these exclusive models, so you can count on getting flawless results from our appliance repair service.
Service/Maintenance Contracts
In addition to providing expert appliance repairs for malfunctioning appliances, All Queens Appliance also offers service and maintenance contracts that can help stop appliance problems before they start. If you purchase one of these contracts from us, we'll stop by on a regular basis and make certain that your major home appliances are properly maintained and functioning perfectly. For the low price of $369.95 per year, you can cover up to five major home appliances, which will result in a substantial savings in the long run. Just one high-end appliance repair could cost you $350, but with our help, you can make sure that such costly repairs aren't necessary. We're here to help you save money on appliance repairs.
Contact us today to learn more about our service and maintenance contracts or to schedule a service call!