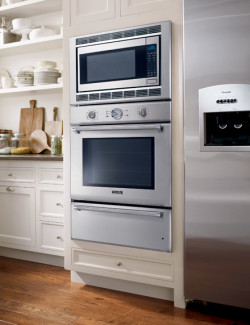 When your oven breaks down or starts to malfunction in some way, you're likely to have a big problem on your hands. Not only will you have a hungry family and limited ways to provide cooked food for them, but you might also have a safety risk for your whole household. That's because damaged ovens/stoves can create gas and electrical hazards. To make sure that your family doesn't go without well-prepared, healthy meals and to ensure their safety, it's important for you to call in an oven repair pro at the first sign of a problem. The oven and stove repair experts at All Queens Appliance are here to make your malfunctioning oven a thing of the past. Call us today to learn more about our complete line of oven, stove, and range repair services!
To properly repair an oven, you need an advanced knowledge of all the appliance parts as well as experience handling dangerous wiring and electrical and gas components. Without such knowledge and experience, it can be difficult and downright dangerous to repair an oven. That's why you should leave your oven and stove repair needs to the technicians at All Queens Appliance. Our licensed, bonded, and insured team of oven repair pros can address a wide range of issues with your oven, range, or stove, including:
Lack of heat
Overheating
Uneven heating
Failure to turn on
Door not closing
Pilot light issues
Sparking
Exterior oven heat
Problems with timers or dials
And other issues!
If you've experienced any of these malfunctions with your oven or stove, one quick phone call to the range repair professionals at All Queens Appliance is all you need to get your unit working again. When you rely on us for oven repair service, we'll ensure that you get high-quality workmanship, outstanding customer service, and results that last. All of our stove repairs come with a one-year parts and labor warranty, so you can have total piece of mind when hiring All Queens Appliance to handle your stove or oven repairs. Expect nothing less than flawless results when you work with our team of experienced oven and cooktop repair specialists!
Thermador Stove Repair

At All Queens Appliance, high-end appliances are our specialty, so you can turn to us when you're experiencing issues with your Thermador oven or stove. We're proud to offer these exceptional Thermador stove repair services to customers in Brooklyn and the surrounding communities. Because these sleek models are so intricate, it takes an experienced hand to deliver precise, effective Thermador repair services, and you can count on us to perform this and so much more. Our years of experience dealing with Thermador ovens will allow us to pinpoint the problem with your unit with great efficiency, offering you speedy repairs that will have your unit working perfectly once more. You can trust us to have complete respect for your Thermador oven, handling it with care while providing you with impeccable craftsmanship. Pick up the phone today and call All Queens Appliance to learn more about your options for Thermador repairs.