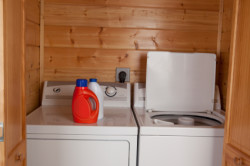 Being able to reach for a warm, fluffy towel when you step out of the shower or bath is a simple luxury that a lot of people take for granted. The fact is that this convenience can easily be taken away the second that there's a problem with your dryer. If your dryer has recently stopped working or is presenting a performance issue, don't hesitate to call the dryer repair pros at All Queens Appliance. We offer professional dryer repairs for residents in Brooklyn and the surrounding areas, and you can always count on us to provide you with top-quality repairs for even the most complicated dryer issue. Don't take a chance that you'll be left shivering after your shower. Call All Queens Appliance today for washer-dryer repair service!
Clothes dryer repair is something that you should take seriously right from the start, and not just because of how inconvenient it is to have a malfunctioning dryer. Dryers that aren't working right can be a fire hazard. In addition, dryer repairs can often get worse with time, so the quicker you act, the better chance you have of not having to purchase an expensive replacement model. You can turn to the licensed, bonded, and insured pros at All Queens Appliance whenever your dryer exhibits any of the following problems:
Not turning on
Not heating
Drying too slowly
Not tumbling
Overheating
Loud noises
Ripping clothing
And more!
Regardless of what the problem with your dryer is, our dryer repair technicians will be able to provide you with effective repairs. We've been in the business for over 40 years, so turn to us instead of a dryer repair manual when you want quality workmanship and repairs that will last. From Maytag dryer repair to GE dryer repair and beyond, we're the team that you can call on to help get your dryer performing at peak capacity once more.
Great Dryer Repair Warranties
When you secure washer-dryer repair for your ailing unit, you'll want to know that the repairs you're getting aren't just quick fixes. That's why it's important for you to work with a local, family-owned company, like All Queens Appliance, that's dedicated to providing customers with some of the best clothes dryer repair services available in Brooklyn and beyond. When you hire us for washer and dryer repair, you'll benefit from a one-year warranty on parts and labor. That means you can breathe a huge sigh of relief knowing that your dryer's life will be greatly extended. Put down that dryer repair manual and call us today to learn more about our services!