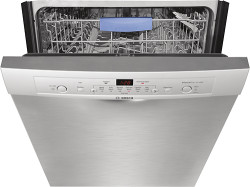 Keeping the dishes in your household clean is as easy as the push of a button when you have a working dishwasher to rely on. However, when your dishwasher starts to drop off in performance or won't turn on at all, you could have a major problem on your hands: a sink piled high with dishes you have to wash by hand. If you want to avoid long hours after meals cleaning up dishes, you should call the dishwasher repair professionals at All Queens Appliance. From Bosch dishwasher repair to Maytag dishwasher repair and more, we have the tools and the experience necessary to provide you with stellar dishwashers repair services. Call or e-mail us right away to schedule a service call!
Dishwasher problems should be handled right away, as speedy repairs can ensure that the malfunction doesn't get worse—and that you don't need to buy a replacement unit as a result! Turn to the seasoned dishwasher repair pros at All Queens Appliance if your dishwasher is exhibiting any of the following issues:
Leaking
Loud noises
Bad odors
Not filling
Not draining
Not turning on
Temperature problems
Whether you need dishwasher rack repair, a new heating element, or other repairs to your dishwasher, we're the team that you can trust for flawless results and amazing customer service.
Dishwasher Repairs That Last
When you call on All Queens Appliance for assistance with dishwasher repairs, you can rest assured that you'll get top-quality results that last. While some appliance repair companies might rush through the job offering you only a temporary solution, our dishwasher repair pros will take the time to carefully assess your unit, troubleshoot any issues, and find the right diagnosis. Once we've discovered the problem with your model, our licensed, bonded, and insured technicians will provide you with the most effective dishwasher repairs available. What's more is that we back up all of the work that we do. If you come to us for dishwasher rack repair or other repairs to your ailing unit, we'll offer you a one-year parts and labor guarantee. That way, you can be sure that you're getting repairs of the highest quality.
Bosch Dishwasher Repair

If you've spent the extra money on a high-end Bosch dishwasher, then you'll want to make sure that you protect your investment by hiring dishwashers repair pros that are qualified to deal with such high-end models. All Queens Appliance specializes in Bosch dishwasher repair, so you can count on us when your unit shows any signs of disrepair. We've been offering appliance repair services to residents of Brooklyn for over 40 years and we have extensive training as well as hands-on skill. You can trust that our experienced team will be able to handle your Bosch dishwasher problems with ease. Throughout the years, we've developed a high level of expertise in regard to Bosch dishwasher repair, so you can turn to us no matter what the problem is with your high-tech unit. Call or e-mail us today to learn more about your options for Bosch dishwasher repairs!