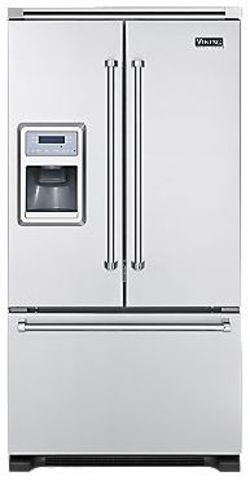 Although refrigerators are probably the hardest working appliances in any household, they seldom get much attention. That is, unless there's something wrong. The moment that your refrigerator starts to malfunction, it can send your family into panic mode. You could stand to lose hundreds of dollars in spoiled groceries if your unit isn't fixed right away, and that's an expense most families simply can't afford. Instead of panicking, pick up the phone and call the refrigerator repair experts at All Queens Appliance. We provide professional refrigerators repair services to homeowners in Brooklyn and nearby communities. If you have a residential model in your commercial space, we can handle those refrigerator repairs as well, so don't hesitate to contact us right away for repairs on your home refrigerator model!
When it comes to refrigerator repair, it takes experience to understand the complexities of this hardworking appliance. The team of licensed, bonded, and insured professionals at All Queens Appliance has over 40 years of hands-on experience to rely on, so you can trust that we'll be able to provide you with effective solutions for your refrigerator issues. Turn to us today if your unit has any of the following problems:
Leaking
Too little cooling
No cooling
Excessive noise
Frost buildup
Door not closing
Light malfunctions
And much more
Our refrigerators repair technicians will carefully evaluate the problems with your fridge, identifying the source of the issue and the best method to provide you with efficient refrigeration repair. Whether you need refrigerator ice maker repair, refrigerator freezer repair, or other refrigeration repairs, we're the team that you can depend on for impeccable results time and time again. We also provide our customers with a one-year parts and labor warranty for all refrigerator repair services, so you can rest assured that your unit will continue to work hard for your family for a long time to come.
Sub-Zero Refrigerator Repair

If you've treated yourself to a top-notch Sub-Zero refrigerator, All Queens Appliance is the place you can turn when your unit is in trouble. We specialize in Sub-Zero refrigerator repairs, so you can rest assured that our technicians have the expertise necessary to deal with these sleek, high-performance units. If you're experiencing Sub-Zero refrigerator problems, don't trust your repairs to appliance technicians who aren't intimately familiar with Sub-Zero models. Instead, leave these repairs to All Queens Appliance, a company that specializes in Sub-Zero refrigerator repair. We'll take great care of your fridge and end the malfunctions for good. Contact the experts in Sub-Zero refrigerator service today and get your refrigerator working right away!
Viking Refrigerator Repair

Viking refrigerators also need extra attention and care, and All Queens Appliance can provide you with expert Viking refrigerator repair service. These high-performance refrigerators shouldn't be handled by an appliance repair company that doesn't have a deep familiarity with Viking refrigerator problems. When you turn to our team for Viking refrigerator repair, you can rest easy knowing that we've worked on countless Viking refrigerators in the past and that our experience will help ensure that your high-tech model is up and running great again in no time.
For Viking refrigerators repair, Sub-Zero refrigerators repair, and repairs for other high-end brands, call or e-mail us now!